Composed and arranged by Max for the album Long Way Home, based on a 1981 Terra Incognita session with Max on saxophone, Mark Twohy on fiddle, and Betsy Ayers on vocals.

"The original Terra Incognita was committed to making sounds as an art form. In fact, that was all we could do - we weren't capable of playing ordinary music."

Copyright © Max Carmichael 1981, 2012.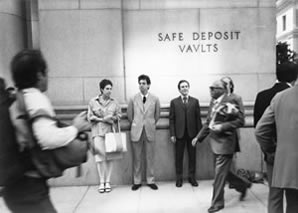 Terra Incognita's Financial District performance piece: Mark carrying video gear in left foreground, and in the background Betsy, Gary Tanner, and Max in the dark suit