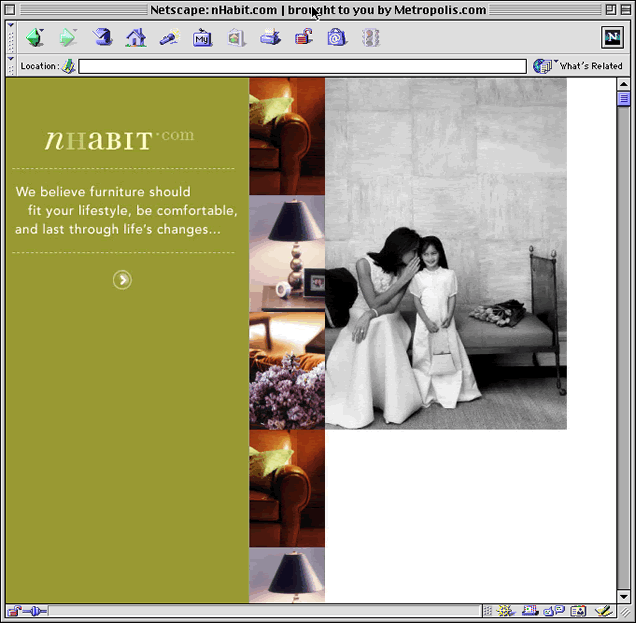 1998-1999
nHabit.com was our first experience with a dotcom startup that grew out of control. It started small with a motley crew of entrepreneurs in Virginia, near the furniture factories of North Carolina. We were recruited for this project by a marketing hotshot who envisioned a revolutionary online experience, fluid and immersive, in which the consumer could manifest their lifestyle with high-end home furnishings. There was nothing else like it at the time - we were conducting research in brick-and-mortar emporiums and inventing everything onscreen from scratch.
Our most radical innovation was the merchandising carousel, inspired by an interactive art piece Max had created in 1996. With a wave of the mouse, furniture settings, called vignettes, would flow across the screen until something caught the consumer's eye.
In the frenzy of the dotcom boom, the initial team attracted a billionaire angel investor, then the backing of the Hearst Corporation and Mattel Corporation, and the team grew from a handful to close to a hundred, and as we were starting to build the site, the investors found another startup which complemented our offerings. Suddenly we were merged, and the site was expanded and launched under the name GoodHome.com. Like most dotcom wonders, it collapsed under its own weight a year later, and our radical carousel widget was put up for sale to other online retailers.
Information Architecture & User Experience Design: Max Carmichael
Visual Design: Jeff Zwerner
Prototype Development: John Weir